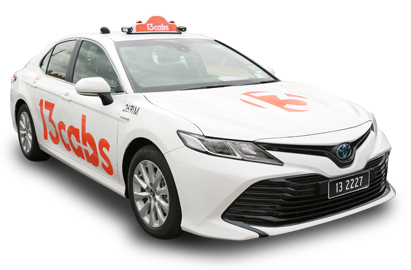 About 13cabs
13cabs is the leading taxi company operating throughout Adelaide
with more than 300 taxis servicing the community.

Book a cab online now
New Driver Information
13cabs invite you to consider an opportunity that can not only satisfy the needs of an income but can lead to a career path including the ownership of a taxi. Only the individual's efforts, knowledge and experience limit earnings.

Driving a taxi is the start of a journey of learning and enjoyment, which can provide financial independence, self-employment and security.

Requirements by the Public Transport Division ensure that any person intending to drive a taxi be fit and proper for accreditation ensuring a high standard of customer service and passenger safety. The accreditation process ensures trained taxi drivers serve the travelling public. All you need is an unrestricted S.A. driver's licence. The process of getting your taxi accreditation is outlined below:
Structure of Taxi Driver Training
INFORMATION SESSION at Taxi Company, Training Organisation or Taxi Council

Apply for a Police Clearance and Medical Assessment

| | | |
| --- | --- | --- |
| | Book English and road law theory test through selected Training Organisation. Attend the Taxi Council to undertake the English and road law theory test and arrange Photo ID Training Passport. | |

| | | |
| --- | --- | --- |
| | Attend nominated Training Organisation to undertake Practical Driving Assessment. When successful attend the 4 DAY TRAINING AND ASSESSMENT COURSE including 1 Day On-Road Training and Assessment (Bus) 3 day Classroom Training and Assessment. | |

5th DAY TAXI COMPANY INDUCTION
Student Induction at nominated taxi company.

OPERATOR INDUCTION Taxi Operator teaches vehicle requirements etc. Signs off Passport and directs student to obtain trainee driver accreditation.

Apply for Trainee Driver Accreditation, Licensing Centre Netley

Return to Taxi Company for PIN and start driving with nominated Operator.

PROFESSIONAL DEVELOPMENT
2 Sessions conducted by professional industry members with assistance of experienced drivers nominated by the taxi company.

FINAL ASSESSMENT at Training Organisation
Trainee to ensure passport is complete prior to final assessment. The final assessment cannot be booked until a minimum of 6 months driving has been completed.

When successful with the Final Assessment, apply for Full Accreditation at Licensing Centre, Netley