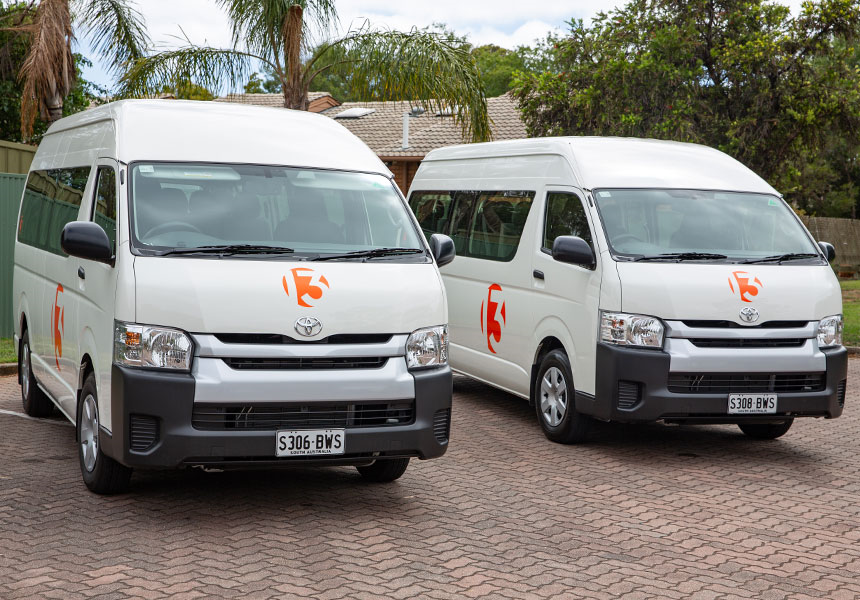 13cabs Mini Buses
13cabs Mini Buses is our professional fleet of comfortable large
vehicles for those who wish to travel in large numbers for
any occasion

Make: Toyota and Mitsubishi
Seats: 6 to 24 passengers
Available: 24 hours, seven days a week


CALL 13 2227 TO BOOK NOW >>
Frequently Asked Questions
Is food and drink allowed on the mini bus?
We do not allow hot, greasy or messy food to be consumed on the mini bus, snack food and drinks in resealable bottles are permitted.

Is alcohol able to be consumed inside the mini bus?
Liquor licensing laws prevent the consumption of alcohol in a bus without a limited licence even if there is no sale of liquor. Limited licence applications can be made to the Office of the Liquor and Gambling Commissioner on phone 08 82268410 (conditions and fees do apply).

Is there room in the mini bus for luggage?
There is only limited room available within our mini buses for luggage, however if you have a lot of luggage we can accommodate your requirements. Please let us know in advance if a trailer is required.

If I require a trailer is there an extra fee?
Yes there is a nominal fee applied for trailers, please ask our booking staff for details.

Does the price include driver and fuel?
Yes this is included in the quote. We do not hire mini buses without drivers.

Will the mini bus stay with us during the full duration of the charter?
Not necessarily, when we quote we do so aiming to give you the best price and service possible. This may require us to schedule work for the mini bus whilst you are not using it.

Does the quote for a tour include accommodation and meals for the driver?
We can include these costs in the quote or alternatively you can elect to supply them yourself.

Can you organise accommodation, meals and venue entry for my tour?
Yes we can organise just about anything for your tour.

If details of the charter change will the price change?
Yes more than likely if the details change after we have quoted, you will need to let us know so we can re quote the charter.